When you're out for dinner, tipping your waiter or waitress is expected of you. As per American custom, the average amount restaurant-goers tip is about 15 to 20 percent of the bill.
But, when it comes to delivery drivers, social customs don't seem to be as clear. So, should you tip the delivery driver, and if so, how much?
A new survey shows that on average, only 15.7 percent of Americans tip their driver when getting food delivered, and 64 percent of them tip a percentage of the food cost versus a flat amount.
People are evenly divided on how they tip, with over half of the respondents, 52 percent, tipping in cash and 46 percent tipping via the app they ordered with.
Newsweek has gathered information from delivery drivers and delivery service providers, to find out whether or not you should tip your delivery driver.
Should You Tip Your Delivery Driver?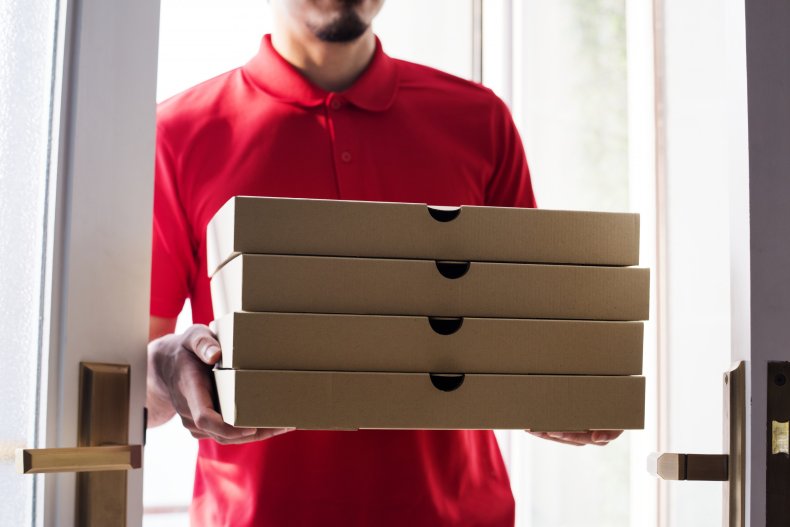 Most food delivery providers encourage customers to tip drivers, even if they're paying delivery fees, especially if the driver had to ride in the rain or if they had to put in some extra effort delivering an exceptionally large order.
A spokesperson for food ordering and delivery platform Grubhub told Newsweek: "Our drivers are a top priority for us, and tipping allows diners to show appreciation for the hard work that goes into delivering every order. That's why we give diners the opportunity to easily add a tip at checkout in our app, and we encourage consumers to tip 20 percent for meals that arrive on time and as ordered.
"Diners are always welcome to tip drivers in cash if that's their preference. We also encourage more generous tips for drivers who deliver large orders, have to drive or travel in inclement weather, or have to climb a few flights of stairs."
For drivers, a tip on each order can make a big difference. In fact, they even try to avoid tipless trips whenever they can.
What Drivers Think About Tipping Culture
If you're trying to order food but no driver is picking up your order it may be because you're not a tipper, and as Ray, a delivery driver for Walmart explained, sometimes the driver would actually lose money picking up a tipless delivery.
He told Newsweek: "Myself and my daughter deliver food. I deliver for Walmart and she delivers for DoorDash. We rarely accept no tip orders, because 99 percent of the time, it would cost us to deliver. I've also noticed that the no-tippers request more and are more likely to leave a bad rating for absolutely no reason. My time, effort, and gas are most definitely deserving of a tip."
Ray's daughter, Lisa, also had a lot to say about this issue, pointing out that the situation for them is only getting worse.
She said: "I've been dashing for nearly three years and it's getting much worse. DoorDash cut our base pay from $3.00 per order to $2.50 per order during the pandemic, and without the customer tipping, it's simply not worth it with the outrageous gas prices."
She added: "It's a convenience service and should be treated as such. I am a former waitress and made very good tips walking the food from the kitchen to customer's tables, so I'm really not understanding how anyone doesn't tip when we wait for their orders and drive it to their house."
DoorDash previously told Newsweek: "Nationally, on average, Dashers earn over $25 per hour they're on a delivery, including 100 [percent] of tips, and work fewer than four hours a week.
"Dashers are always shown a guaranteed minimum amount they will earn for completing a delivery before they even accept the delivery, as well as the location and name of the restaurant, and estimated total mileage for the delivery so that they can make the best decision for themselves while dashing."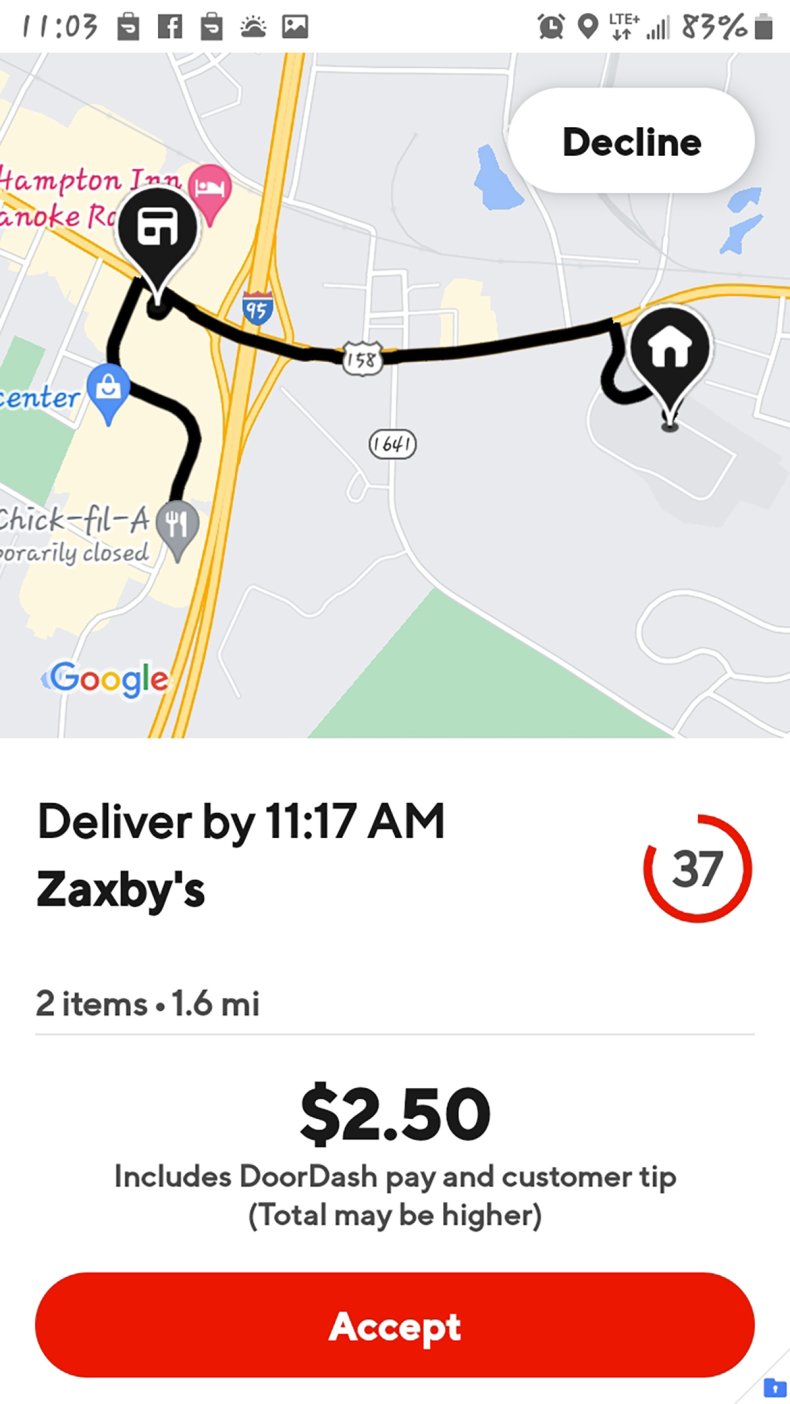 Mark, a delivery driver from Georgia, who's been working for Pizza Hut for roughly three months, told Newsweek that delivering food for a living is a very unhealthy profession, calling it a "roller coaster for tips."
He said: "If the company paid delivery drivers a decent wage, it would be different. But, the wage they pay us drivers is very terrible. I make roughly $7.25 an hour to upwards of 10 dollars depending on what I am doing. If I am in the store, it's $10, but if I am on the road it's $7.25 an hour.
"They pay for mileage but even that is very hard to work with, as you literally have to drive their route or you end up spending gas instead of making back what you put in gas. Where I am it's 40 cents a mile, so roughly 50 miles earns me $20 for the night.
According to figures from Talent.com, the average U.S. pizza hut delivery driver is paid $36,387 per year, or $18.66 per hour, with entry level positions starting at $29,250 annually.
"Tips is the worse of it, the most expensive delivery I have done was near $110, and got a 2-cent tip, the change of the money given, and it's common where I live to get none to maybe 5 or 25 cents for the change out of the dollar. If you have a fuel-efficient vehicle, it's worth it, but most kids and adults who are doing this job have the gas-guzzling old vehicles."
"Some nights I make good in tips, well good for me is over 30 dollars in tips, but a lot of slow nights I make 5 to 10 dollars for 7 to 10 deliveries. So yes, delivering food no matter what it is, can really be a terrible way to live. Not getting a tip and having to drive 10 miles round trip really affects people."
How Much You Should Tip A Delivery Driver?
According to Ridester, when you're ordering food online, tipping etiquette usually falls right in line with the standard 15 percent, which it says is fine for standard or small orders that are easy to pick up and drop off, but not enough for larger orders.
When it comes to large orders, like requests that involve more than two bags, they recommend a base tip of at least 18-20 percent, "to ensure your driver is well-compensated for their efforts."
What Percentage Of The Tip Actually Goes To The Delivery Driver?
A spokesperson for DoorDash told Newsweek that delivery drivers earn over $25 per hour when they're on delivery, including 100 percent of tips.
"Dasher pay is based on base pay, customer tips, and promotions. Base pay is calculated based on the estimated time, distance, and desirability of an order. Applicable promotions such as Peak Pay and Challenges are added to base pay after the order is accepted, as well as 100 percent of customer tips, always," said DoorDash, adding that "every dollar customers tip is an extra dollar in the Dasher's pocket."
"The Essential Guide to Tipping Your Delivery Driver" found on the Grubhub website, explains that while its tips always go to drivers, delivery fees don't.
"When tipping on Grubhub, the tip money goes straight to the delivery drivers, as it should. Some orders may include an additional 'delivery fee', but this is not a tip (drivers do not receive this money), so make sure not to deduct this charge from your tip amount."
But the way tips work is not a one-size-fits-all scenario, and Pizza Hut is a prime example.
According to the restaurant chain's website, when you tip your drivers in cash, they keep the full amount, while tips paid through cards and Apple Pay are split, with 70 percent going to your server and the other 30 percent being distributed among the other team members working in the restaurant.
Do you have a similar monetary dilemma? Let us know via life@newsweek.com. We can ask experts for advice, and your story could be featured on Newsweek.